In 1956 he held his first one-man exhibition at the David Hendrick's Gallery, Stephen's Green, and two years later represented Ireland at the Guggenheim Award Exhibition in New York where he won the National Award. In 1963 he was one of a dozen Irish painters chosen by the Arts Council for an exhibition in America. Thereafter he exhibited widely at home and abroad.
Patrick Collins was born in November 1911 in Dromore West, the second son of policeman William and his wife Mary.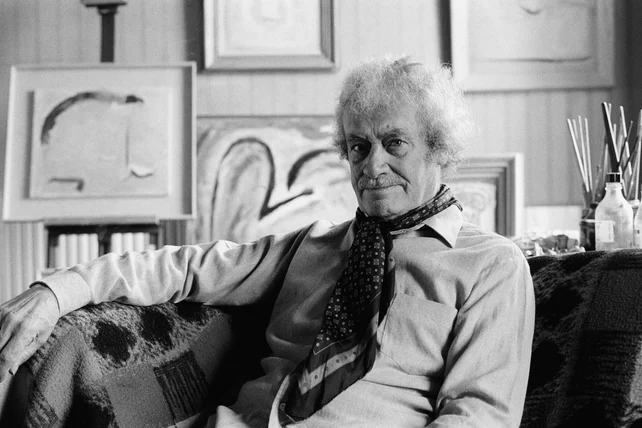 Drumore was described as a little rural town of fine houses and well-to-do shops, all gave comfort and consolation to the weary traveller or tourist. The village was exceedingly bright and peaceful. The boundary river, the waterfall, the shades of Woodhill demesne, the quiet little church, the coastguard station a bit off, the expanding ocean beyond – all combined to make Drumore a spot to be remembered.
This idealised scene where Patrick roamed among the ancient mills formed along the Dunneill river, as it cascades in a series of miniature falls through the village into the sea at Donoghantraine. Under the shadows of the Ox Mountains – an introduction to nature that greatly influenced his artistic minds awakening.
William Collins contracted tuberculosis and was discharged from the police in 1923. In 1925 Patrick was sent as a boarder to Saint Vincent's Orphanage, Glasnevin. After leaving there he got a job with the Irish Life Insurance Company where he worked for twenty-two years. During the 1930s an early interest in writing gave way to an increasing urge to paint. Though he attended classes at the National College of Art, he was largely self-taught. In the mid-1940s he began to work fulltime as a painter.
In 1950 Collins exhibited at the Irish Exhibition of Living Art, where it was well received. Here he exhibited yearly until 1972. In 1956 his first one-man exhibition was opened by Sir Basil Goulding and achieved great critical acclaim. He received the Guggenheim National Selection Award for Ireland for his painting "Liffey quaysides" in 1958. His style was "abstract" though not everybody's cup of tea. He had a select following especially among business investors of which Collins had a wealthy following. That included Sligo born millionaire businessman Vincent Ferguson.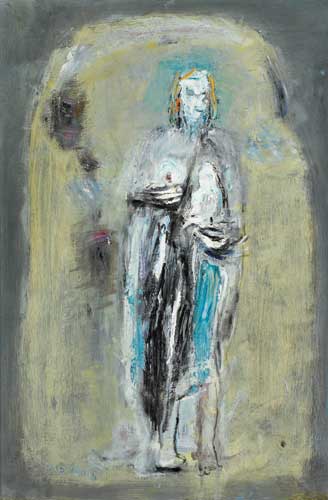 In the 1960s Collins came to maturity as an artist. During the following decades the Irish landscape became his major source of inspiration. He consciously resisted international influences feeling the need to find a uniquely Irish means of visual expression where motifs such as fields, bogland, animals, and ancient monuments are veiled in mist.
Though he lived in France from 1971 to 1977, his objective was to achieve a new perspective on Ireland. He continued to gain recognition, receiving the Irish Cultural Award in 1976 and being elected to the HRHA (Honorary Member of the Royal Hibernian Academy) in 1980. His works were not intended to be topographical; rather by working from memory he aimed to evoke the layers of meaning he associated with the land, dealing with ideas such as ownership, a connection with the Celtic past and feelings of nostalgia and isolation.
Patrick Collins' private life reflected that of an unsettled artistic nature. He could be difficult, liked drink and had a wandering nature. That accepted, he was one of Ireland's foremost painters of the 20th Century.
James White, chairman of the Arts Council said of him: "Patrick Collins has made a unique contribution to painting in our time by his power to evoke an aspect of Ireland which captures not only the primary image of the place and the people, but also its spiritual content. His grey/blue landscapes contain images of households, farms and figures which emerge with a curious imprecise shape that is ultimately seen to be marked by folk-memory and by legend. Like the poet with words, his images penetrate areas beyond exact statement or description – they belong to the area of suggestion and imagination which cannot be identified outside the realm of his own idiom."
Patrick Collins 1911 – 1994
When I am gone what will you do?
Who will write and draw for you?
Someone smarter – someone new?
Someone better maybe you?
Padraic Feehily